CompetitiveTrials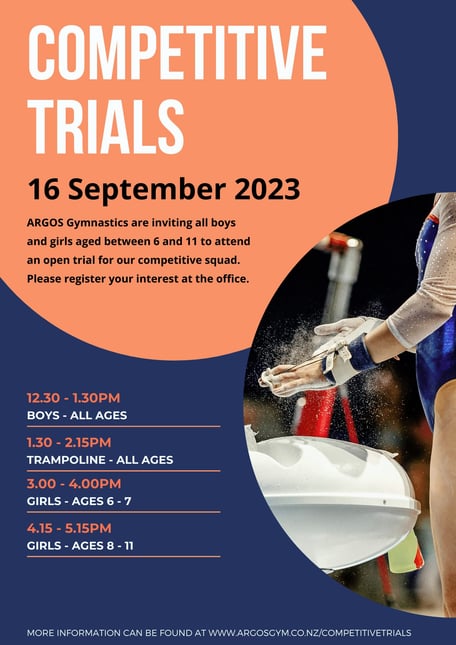 What is the Competitive Squad?
ARGOS Gymnastics offers Women's Artistic Gymnastics (WAG) and Men's Artistic Gymnastics (MAG) Trampoline (TRA) and Tumbling (TUM) competitive programs, in which athletes progress through Levels/Steps. Our competitive programs are designed to offer exciting and challenging opportunities to those talented children who have the capacity to compete in gymnastics. We nurture each child's love of gymnastics and take pride in preparing them physically and mentally to excel and reach their potential.
As a Gymnastics New Zealand affiliate club, ARGOS Gymnastics follows the Gymnastics New Zealand competitive framework and programs for all competitive codes. These programmes aim to progress each gymnast through the levels/steps pathway at a pace suitable to each child's needs and resources of the club.
While gymnastics is an individual sport, our competitive athletes train with a squad, fostering great bonds and a team concept amongst athletes. Gymnasts across the levels/steps will compete at local, regional and North Island competitions,with the goal to qualify to Nationals. Our team of highly qualified and dedicated coaches are committed to seeing each individual become the best athlete they can be with a healthy sense of balance, sportsmanship and self-confidence.
How do I get into the Competitive Squad?
We have trials for all 4 codes (WAG, MAG, TRA, TUM). Each child will be asked to demonstrate a number of skills and Gymnasts are selected based on strength, flexibility and coordination.
You will receive an email the following Monday advising whether your child has made the squad, and for those who have been accepted we invite you to a meeting on Thursday 26th August to explain what is involved in being part of the competitive squad, the cost and training expectations. From there you have until the 2nd September to decide whether you would like to commit to the Team. Training will then start in term 4.
Introductory Period
Term 3/4 is an introductory term for gymnasts coming into the competition squads. This is the term where the new squads are formed for the next competitive year. Conditioning and skill progressions are begun for the new routines. It takes quite a bit of time, work and effort before the gymnasts are ready to enter into a competition. This time is also used to see if these more structured training sessions are suitable for the gymnast and their family.
At the end of Term 4 (December), the gymnast and family should make a commitment for the coming competition year. As new gymnasts must join the competitive team officially, it is at this time that squads and timetables for Term 1 are finalised. A general meeting with gymnast/parent/coach will be held. At this meeting the team policies will be discussed, goals set, and questions answered.