Rhythmic Gymnastics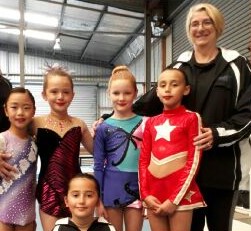 Rhythmic gymnastics (RG) is a culmination of ballet and modern dance, flexibility and musical interpretation. Gymnasts perform floor routines with five hand held apparatus.
Musician and teacher Emile-Jacques Dalcroze (1865-1950) pioneered the first eurhythmics methods. Proving popular in the newly established Soviet Union, Rhythmic Sportive Gymnastics was born in 1946. The first World Championships were held in 1963 with the floor exercise and hoop – ball, clubs, ribbon and rope later followed.
Hoop - Gymnasts move through and over the hoop as it is rolled, rotated and released through a variety of delicate and powerful movements.
Ball - The gymnast and the ball should move in perfect harmony as they roll, bounce and throw the ball with control and precision.
Clubs - Characteristics include small circles, large throws and asymmetric movements requiring exceptional hand eye and psychomotor skills.
Ribbon - Possibly the most recognised rhythmic apparatus, gymnasts create designs in space whilst passing through or over the ribbon.
Rope - A dynamic apparatus where gymnasts perform leaps and turns whilst skipping, rotating, releasing and catching the rope.