Birthday Parties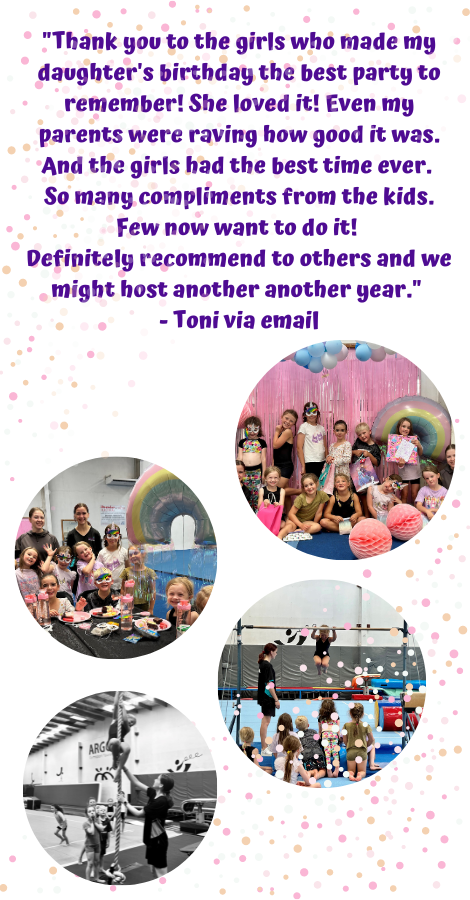 Here's what to expect
Gymnastics parties are all about fun and games, and we want to make sure that your party has a great time. Parties are tailored to age, gender and skill levels, so all participants will have a great time.
We've added some tips below that will make sure each party runs smoothly and to time. If you have any questions, please feel free to ring the office on 577 0603 or email office @argosgymsport.co.nz
Days: Sunday only
Price: $22.50 per child (minimum 10 children)
Payment: $50 non-refundable upon book request. Balance to be paid at least 1 week before booking
Gymnasts
Children should wear comfortable, flexible clothing or sport/active attire and have bare feet during gym time.
Long hair should be tied back.
Please NO jewellery, belts, zips or buttons.
Your coach will explain everything, but feel free to put your hand up if you have any questions.
Equipment may only be used when class is in session.
Host Families
Feel free to arrive 15 mins early to put up decorations and greet guests.
Trestle tables and chairs are provided for you to set up your food, beverages and birthday cake.
Our kitchen has a jug, microwave, fridge and oven that you can use. However, we are unable to provide crockery & utensils.
Please ensure you clean up after yourself and be considerate of the next party and end your party on time.
If the gym/party area is not left clean and tidy there will be a $50.00 clean up fee charged.
All decorations and rubbish will need to be taken home.
Please let parents know that when dropping off their children that they should arrive to collect their child/children at least 10 minutes before the party end time to ensure you don't go over your party end time.
Absolutely NO food or drinks are allowed on any of the gym floors or the gym equipment.
Parents
Children only on the equipment – sorry no adults on any equipment.
All children under 5 must be accompanied by an adult on the floor.
Any children under the age of 7 will not be permitted to go on the big trampoline due to health and safety reasons.