Pre School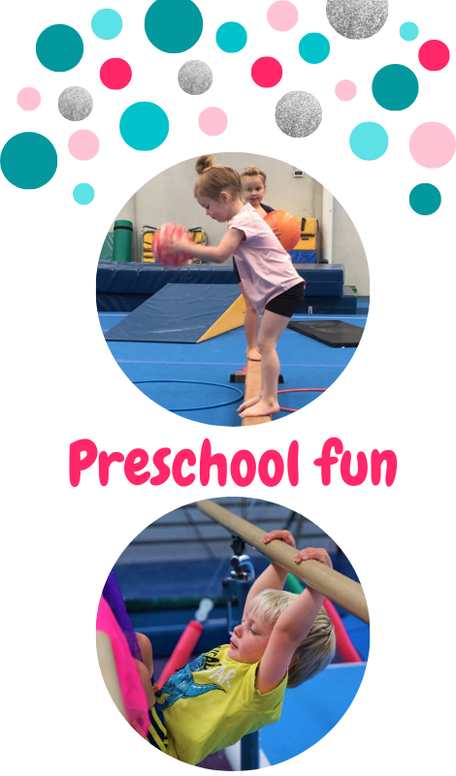 At ARGOS Gymnastics we are passionate about coaching Preschool, and we believe it's one of the best things your child can do for their development.
Research shows that kids learn best through play, discovering their limits and abilities during physical activity. Our Preschool classes provide a safe environment for children to develop physical skills in a fun way, at their own pace.
Your child will develop skills such as social interaction, listening to instructions, lining up and how to get along in a group environment. They will also learn the basics of gymnastics movement such as jumping, rolling, balancing, fine motor skills and much more.
Our Classes
Ages 2-3 Designed for our youngest preschoolers, this 45 minute, parent assisted class focuses on movement and fun, following circuits which every few weeks are based around a theme.
Ages 3-5 Your child will be having fun and learning new skills without realising it! This 45 minute, parent assisted class focuses on listening to instructions and teamwork in a fun environment, following circuits and themes keeping your child engaged throughout the class.
Ages 4-5 Designed for our older preschoolers who are ready to be advanced their skills. In this 45 minute class we concentrate on the fundamentals of gymnastics - climbing, crawling, jumping and swinging, whilst encouraging independence and increasing confidence.
'Getting ready for school class' Independent classes for ages 4-5 We're here to help your little ones become 'school ready'. This class will focus on learning key school words, numbers and colours, increasing your childs experience in lining up, turn taking and social interaction. Meanwhile developing their skills and advancing them a little further with their gymnastics. This is the perfect class for our experienced gymnasts who are ready to be in a class without parental assistance.
General Information:
Please wear snug, comfortable clothing. Shorts & T-shirts are acceptable. No belts, buckles, zippers, jeans, wrist watches, skirts or jewellery.
In cool winter months, named thermals are recommended.
Gymnasts participate in bare feet.
Long hair must be tied back for safety and hygiene reasons.
Please bring your own named drinking bottle with water only please.
A parent or caregiver must accompany their children at all times. You will be on the mat so please be prepared!